Insights into customer churn prediction in telecommunications empower providers to carry out data-driven proactive retention strategies. This is made possible with AI/ML solutions.
The global market for telecommunications is slated to grow at a phenomenal rate over the coming years with the increase of communication technology adoption and the implementation of 5G globally. Telecom industry regulations mean it is easier than ever for customers to switch providers, putting critical subscription revenue at risk. In such a mature market, the growth of providers is tied to continued customer loyalty and low churn rates.
PI.EXCHANGE teamed up with a large Singaporean telecommunication provider with over 2 million mobile and fixed services customers.
Challenge
The objective: To enable their respective business users (BU) (their marketing and retention teams) to proactively identify and reduce churn, and increase average revenue per user (ARPU) through greater understanding of their customer and relevance of offers - all while understanding the impacts of both on the bottom line.
Situation
Customer churn is important to every business because of the direct loss of revenue associated with lost customers. To compound that loss, the cost of acquiring a new customer is usually more expensive than retaining a current customer. This has spurred many telecommunication providers to move from traditional churn analytics to more advanced prescriptive analytics involving tactical next-best-offer modelling as a proactive strategy to reduce churn.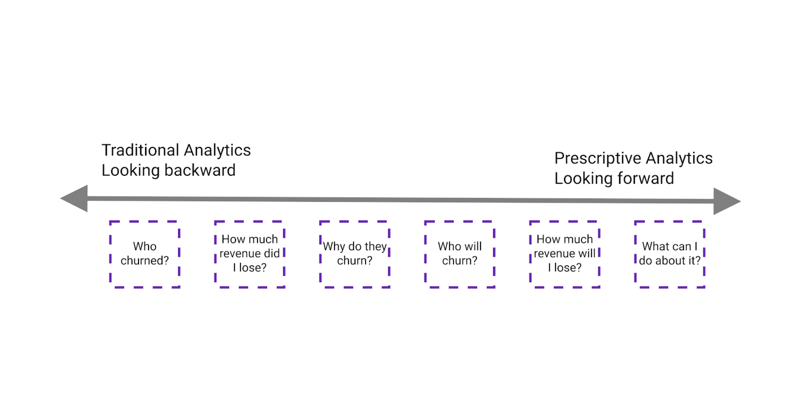 Solution
The AI and Analytics Engine's simplified ML pipeline provided a fast and AI-guided development of a Propensity to Churn Model, a Next Best Offer model, and an Expected Take-Up Rate model.
The models were developed using historical customer behaviour, sales, and churn data, easily prepared by the smart data preparation feature. The models once developed and trained, with a single click, can be deployed to an end-point, to be called via an API.
The AI & Analytics Engine could power a predictive and interactive insights dashboard enabling:
Real-time predictive insights on identifying churn and revenue effects;
Next best offer solutions to proactively mitigate churn and increase ARPU; and
AI-powered scenario-based planning to understand revenue implications of predicted churn occurring or not occurring and of offer acceptance or decline.
The dashboard represents a configurable and interactive user interface for business users to consume results and test out different combinations of attributes and their effects on the models - without understanding ML or writing code. Through the use of data visualizations, the dashboard simplifies data complexity with at-a-glance awareness of customer opportunity.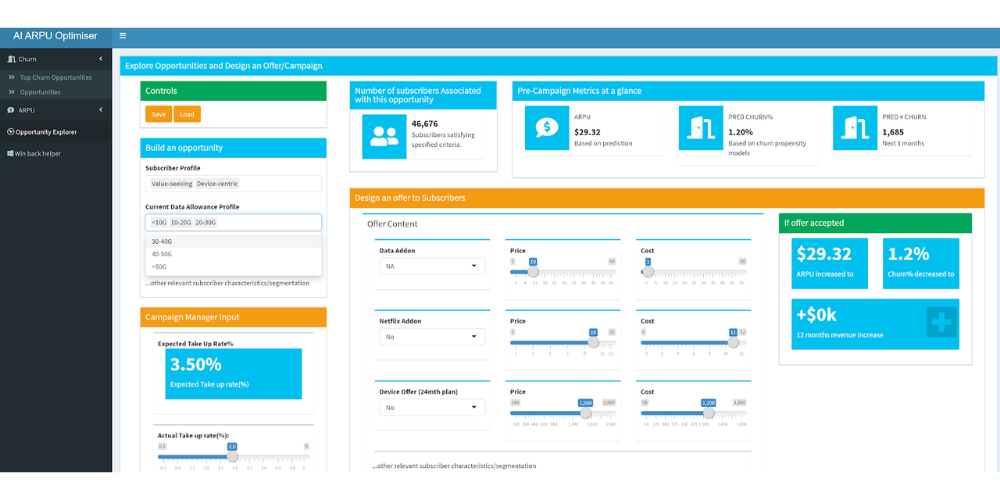 *The dashboard is not part of the PI.EXCHANGE's AI & Analytics Engine. It is custom-built for the client.
Results
The solution provided business users with a tool, enabling the following:
Churn risk identification and revenue impacts;
Data-driven validation and support for marketing campaigns and proactive retention initiatives to:

Target cohorts (who are likely to churn); and
Provide optimal (timely and relevant) offers to either (a) reduce the likelihood to churn or/and (b) Increase ARPU.

A cost/benefit view of offer acceptance; and
Increased productivity and impact of marketing and retention teams by reducing manual steps and reducing the guesswork of provisioning offers.
Benefits
The Client was able to leverage the AI & Analytics Engine to:
Empower business users with self-serve analytics in a strategically useful timeline.
Reduce manual processes of data handling and make data-driven campaign and retention initiative decisions.
Change from a reactive retention strategy to a proactive strategy, providing a significant competitive edge.
Moreover, the flexibility of integrating the solution with existing systems provides a layer of intelligence without a steep learning curve. By simplifying ML development, deployment and management, business users can develop their own models, reducing the need for specialists.
The value of the PI.EXCHANGE's AI & Analytics Engine extends beyond immediate usefulness to churn reduction and ARPU accretion. The Engine, with its collaborative workflow and accelerated ML pipeline, empowers the Client with a bolstered AI/ML capability.
Wrap-up
Using the AI & Analytics Engine, the Client is able to build a repeatable collaborative ML development workflow for their data science team. The value of which extends beyond the use-case at hand and supports a continued competitive advantage through a robust AI capability. Read on for more AI/ML industry solutions.
Interested in finding out more on how PI.EXCHANGE can help you better understand your customers and reduce churn? Get in touch now!