This article walks users through the process to download a dataset.
The AI & Analytics Engine provides users with the capability to download their datasets in a few different file formats: CSV, Json Lines, or Parquet.

With this feature, users can download any datasets available in their project, regardless of how they were created. This includes both original datasets imported directly into the Engine from an external source, and datasets created through processing steps like clustering or data-preparation. Downloading datasets enables users to continue using them in external applications.
Step 1: Identify the desired dataset and click on the download symbol
Go to the dataset listing page

On the dataset listing page: The download function automatically downloads the latest version of the dataset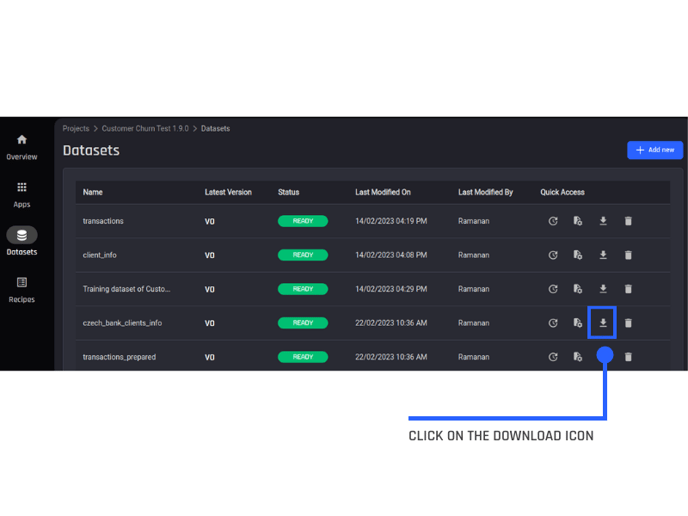 On the Dataset Detail page: Users can click on the appropriate version of the dataset to download
Step 2: Select the file format for the download
Select the format of the download file

Click the "Download" button at the bottom right of the dialog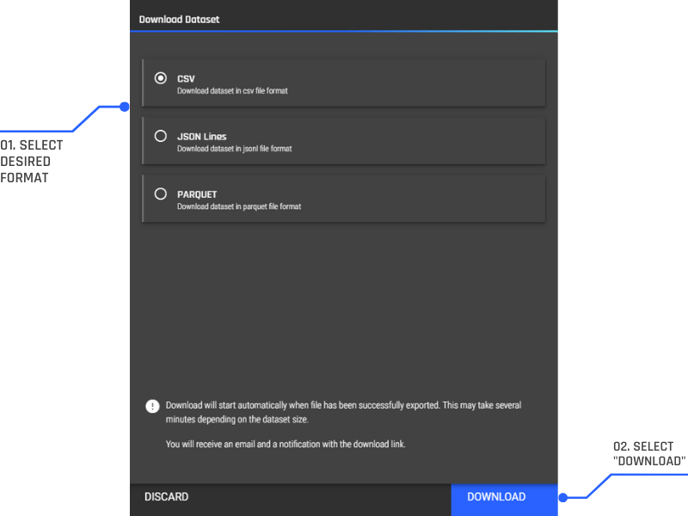 The Engine will immediately begin exporting the dataset (may take several minutes depending on the dataset size), and once the exporting process is complete, the download will begin automatically via the browser.
Tip: Exported dataset will be stored in the cache for 7 days to be available for immediate download.
In addition, users will also receive:
an in-platform notification; and

an email with the download link.