Leader in innovation PI.EXCHANGE to represent Victoria at Big Data World 2019
Victorian AI/ML leaders PI.EXCHANGE set to appear at Big Data World 2019 Singapore in partnership with Global Victoria and State Government of Victoria
---
Leader in innovation PI.EXCHANGE to represent Victoria at Big Data World 2019
PI.EXCHANGE's home of Melbourne - regarded as Australia's technology hub and home to over 8,000 tech companies - will be on show at Singapore's 2019 Big Data World expo, featuring PI.EXCHANGE as a leading ambassador.
The 2019 edition of Big Data World is set to welcome over 18,000 data professionals in October under the banner of "giving you the key to RECOGNIZE, ANALYZE, & UTILIZE data", marking this as a perfect match for PI.EXCHANGE who will be proudly representing Victoria's internationally competitive technology sector at the expo. Victoria continues to stand out in the Australian technology landscape as it fast establishes itself as an international hub for digital technology companies and startups, including standout innovators PI.EXCHANGE who are are taking the artificial intelligence and machine learning spaces to the next level with unprecedented intelligence and superior performance underpinned by scalability and cost-effectiveness.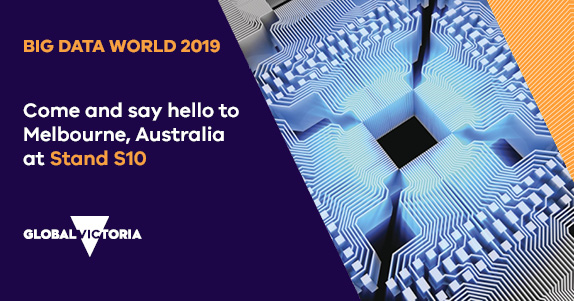 Global Victoria will be joining Big Data World for the first time at Pavilion S10 as supported by the State Government of Victoria and their strong commitment to connecting with South East Asia, opening doors for reciprocal trade and investment, and further promoting to the world Victoria's fine pedigree as home to more than half of Australia's top 20 tech companies.
As part of Asia's largest technology event stack and in partnership with Global Victoria, PI.EXCHANGE will be showcasing the future of AI/ML application development to over 18,000 of the world's finest industry professionals and connecting with organizations and businesses looking to leverage new technologies such as AI and Machine Learning to scaleup their business and harness the true potential of their data.