ARE YOU A DATA SCIENTIST STRAPPED FOR TIME?
Automate your manual data tasks into repeatable workflows
Leave the repetitive and time-consuming tasks to the AI & Analytics Engine.
Build, run, and scale high-performance Machine Learning applications in minutes.
CONNECT TO YOUR DATA
Simple and easy, connect to your data get started in seconds!
PREPARE YOUR DATA FOR MACHINE LEARNING
Be guided with recommendations on how to clean and wrangle your data, ready for machine learning.
SELECT & TRAIN ONLY THE OPTIMAL MODELS
Not sure which algorithm? No worries! The Engine recommends the optimal algorithms (models) for you to train.
DEPLOY YOUR MACHINE LEARNING APP WITH A FEW CLICKS
Simple and fast. Integrate with your existing systems or just use the web interface to make predictions.
FAST SIGN UP
Get started with a 2-week free trial today
No time like the present, get started with a free trial, no credit card required.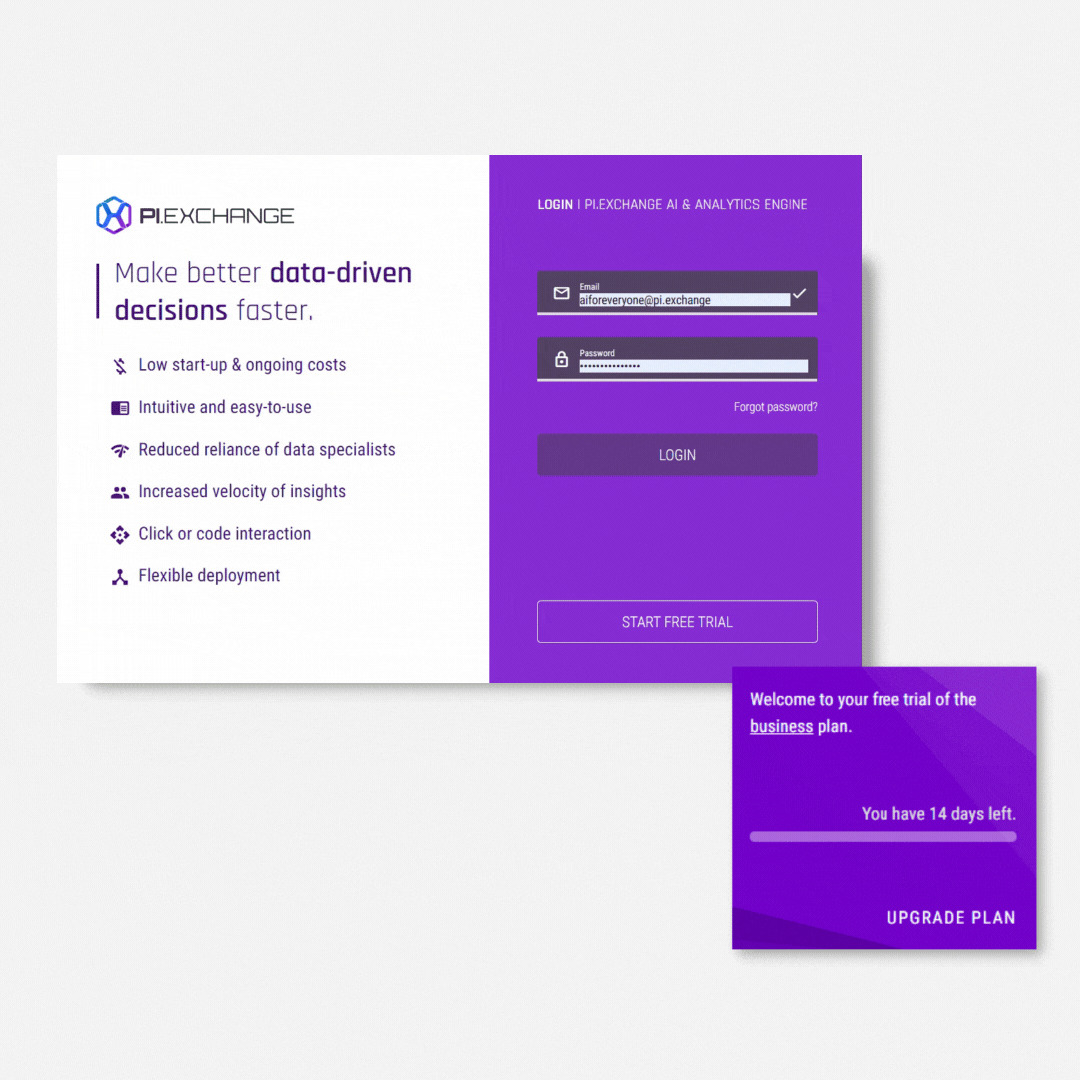 CUSTOMER SUCCESS STORIES
The Engine is letting more people innovate with machine learning
"Consider the value of your or your team's time. The power of the Engine isn't just in its ability to create high-quality predictive models, it's in its ability to get you up and running and evaluating results in minutes, not weeks."
How long is the free trial?
The free trial lasts for 2 weeks after sign up, You will have access to all "business" features and usage limits during these 2 weeks.
How do I know what plan is right for me?
One of our Team Members will be happy to help. Get in touch via the Contact Us page, and one of our friendly Team Members will reach out to assist you.
FAQ
Questions? Great we have answers!
Burning question not answered here? Get in touch with the team!
GET STARTED WITH A 2-WEEK FREE TRIAL TODAY
The Engine is your complete data science, and machine learning toolchain