Machine Learning made easy. No coding required.
One platform. All users. Infinite AI solutions.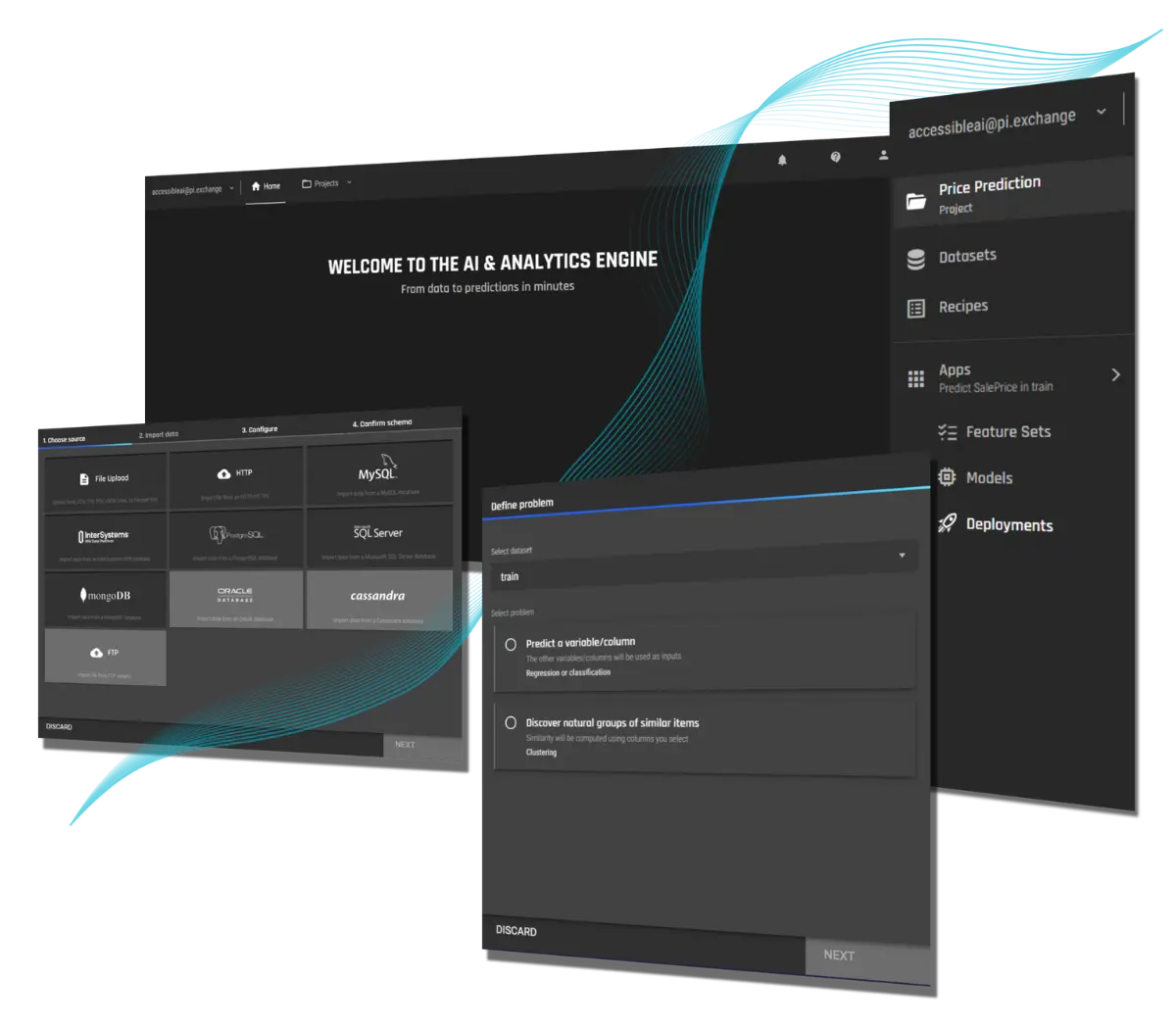 Consider the value of your or your team's time. The power of the Engine isn't just in its ability to create high-quality predictive models, it's in its ability to get you up and running and evaluating results in minutes, not weeks.
Chris Hall
Founder, Winegrounds LLC
The AI & Analytics Engine is a powerful and easy-to-use Data Science and Machine Learning platform. The AI-guided automation and low code approach helps us quickly adapt the Engine and apply it to our business cases.
Duc Anh Nguyen
Lead Developer, BESPIN GLOBAL
The PI.EXCHANGE platform has helped me as a professional Data Scientist by allowing me to cut down on labour-intensive tasks via automation. I can get things done quicker via the UI and the API access that the platform provides.
Hajar Razip
Research Scientist, UTP-CeRDaS
PI.EXCHANGE's ability to use Machine Learning to help identify and, thereby, reduce payment fraud is a game-changer. Adding to that, this SaaS-based technology is fast to deploy and also simplifies Machine Learning.
Ken Goh
Chief Partnership Officer, Huawei Cloud & AI, APAC
We trialed our historical data sets with each model to identify which offered the most accurate forecast. The platform demonstrated value in complementing my team's decision-making process.
Chartering Manager
Logistics & Supply Chain
The Engine was easy to use and well-performing. I used a public dataset from Kaggle and the score was just below the best-optimized prediction even though I did not fully utilize all of the Engine features. It is an impressive product.
Seok Lyu
Investment Team, SpringCamp
WHY THE AI & ANALYTICS ENGINE
The Engine is your complete end-to-end machine learning tool that puts the
power of data science and machine learning in your hands
Prepare data. Build Models. Get Predictions.
START MAKING PREDICTIONS
Make predictions within the Engine or
route the output where you need
Understand your data and make predictions within the Engine - or use the SDK to integrate the output where you need
AI & ANALYTICS ENGINE
The Engine makes building value with your data easy
YOUR DATA INSIGHTS AWAIT
Get started and build your competitive edge with AI today
Stay up-to-date with the latest use cases,
blogs and product updates from the team