Banking and Financial Services
Leveraging ML for Customer Churn Prediction in the Banking Sector
No bank wants its valuable customers to churn. Retaining customers with customer churn prediction is the most cost-effective way to bring in revenue.
---
Banks know that AI and Machine Learning (ML) can help reduce churn through early intervention. However, building propensity-to-churn models takes time and expertise, and many banks find that not all of their product lines get the attention they deserve due to resource constraints. This lack of bandwidth can often lead to less than optimal customer retention outcomes.
The AI & Analytics Engine can give bandwidth back to data teams so that more banks can maximize the output of their teams to prototype and productionize ML models, so retention strategies can be planned.
For other relevant use cases, check out our article on the Top 18 essential AI Use Cases in Leading Industries!
The Challenge: It costs more to acquire a customer than to retain one
The landscape is rapidly changing for the banking and finance sectors. Previously, customer churn rates were relatively low. However, with the increasing options in the market and proliferation of fintech, customer churn is an increasingly important battleground for financial institutions.
Over their customer lifetime, customers generate fees on transactions, banking fees, credit cards, home loans, personal loans, and so much more.
Traditionally, simple churn analysis uses rules based on known behaviors to identify churn risks. Rules-based systems can be inflexible and overlook customers who do churn and generate false positives. It means expensive incentives are provided to customers who were at low risk of churning.
The Solution: ML-Powered churn prediction for banks
ML for customer churn prediction is ideal, particularly for banks. This is due to the problem consisting of complex data over time, and many interactions between diverse customer behaviors. Without ML, it can be difficult and inefficient for bank employees to identify and act in a systematic way.
The cost of acquiring a new customer can be higher than that of retaining a customer by as much as 700%. And, increasing customer retention rates by a mere 5% could increase profits by 25% to 95%.1
1https://www.bain.com/insights/retaining-customers-is-the-real-challenge/
Have questions you want answered? Or have a use case you need help with? Get in touch with us, and our team of experts would be happy to answer all your questions.
How does the AI & Analytics Engine help banks identify and stop churn?
The AI & Analytics Engine can analyze a variety of data, including new data sources, and at relatively complex interactions between behaviors and individual history and recommend models that predict the risk of the customer churning.
In addition, The Engine's models can identify the variables that have the most importance to this prediction, allowing FIs to act to improve those areas for customers. The Engine can also be used to recommend the next best offer that will have the highest likelihood of retaining the individual customer.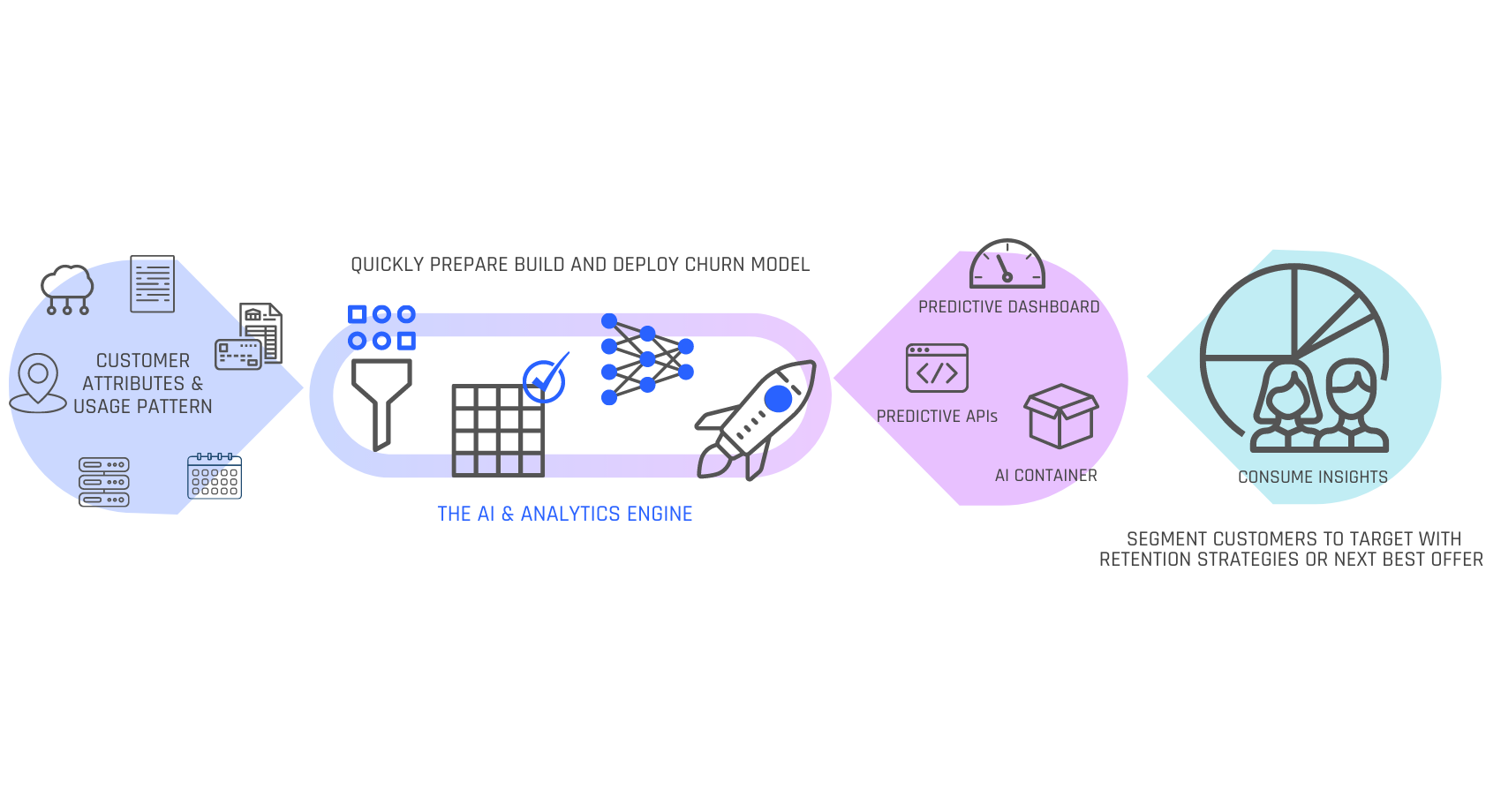 Benefits of using the AI & Analytics Engine to predict propensity to churn
The Engine gives bandwidth back to retention strategists, systematically providing accurate and scalable identification of churn segments. The Engine provides:
Fast, affordable setup and easy ongoing management of ML models.
Improvement of accuracy and relevance of ML model forecasts over time to new data with continuous learning.
Reduction in staff hours spent on the analysis of data.
Less time spent on writing code more time spent on tweaking strategies to improve outcomes.
Interested in exploring other use cases? Check out our main listings page for other AI Business Solutions!
Want to start retaining your existing customers and identify their propensity to churn using ML? Book a demo with us and we'll be happy to take you through how the Engine can help you with that!