Retail
Retail Supply & Demand Forecasting
Retailers can proactively plan retail inventory needs with supply and demand forecasting using the AI & Analytics Engine.
---
The Challenge in Understanding Retail Demand
Supply chain networks are expansive, with devices and systems to capture data at every stage. Extending across the entire value chain, from production, distribution, international and multi-modal shipping, delivery to stores, and buyer take-up - there is a competitive advantage to coordinating all the data points into rich insights on upcoming market demands.
PI.EXCHANGE's AI & Analytics Engine can help retailers utilize the proliferation of data into easy-to-action insights to better manage inventory and production processes, and coordinate logistics. The benefits for retailers are significant, ranging from cost savings to greater profit generation.
Supply and demand forecasting and inventory planning are crucial to the value chain in delivering value to customers, as well as the retailer's fiscal health. Proper demand forecasting can determine the cash flow and profit margins in an environment of fast turnovers of goods and products. It provides a clear view of the production volumes required in order to meet the current market demand, which can often be volatile and changeable.
Forecasting the future is no easy task, especially with ever-changing variables, like seasonal fluctuations. With a wide variety of both predictable and unpredictable factors surrounding supply and demand planning, the Retail Industry tends to rely more on growing trends, past experiences, and intuition. This can lead to forecasting pitfalls, such as excess inventories and poor capacity management, which ultimately hurt the performance of the company. Increasingly, retailers are looking to incorporate more data-driven insights into their demand and supply forecasting tasks. The good news is that most retailers already have a reservoir of data that they can use to more accurately aid them in their supply and demand forecasting tasks. Here is where AI/ML solutions come into the equation.
For other relevant use cases, check out our article on the Top 18 essential AI Use Cases in Leading Industries!
Machine Learning for Accurate Forecasting
Leveraging AI/ML in their demand and supply forecasting enables retailers to predict and identify changes in demand and customer behavior, to promptly adapt their planning to meet the changes in demand. The vast data that are privy to retailers can be fed into a Machine Learning model, to produce data-driven patterns and insights into their current demand and supply planning practices, for more accurate forecasting.
An accurate supply and demand forecast lets retailers predict the resources and products needed for particular store locations and channels on any given day. In addition to improving the customer experience, this also supports capacity management, staff allocation, and other areas where the lead time is important in decision-making.
Machine Learning Made Accessible with the AI & Analytics Engine
The AI & Analytics Engine is an important tool in any retailer's arsenal, particularly in data-driven demand forecasting. When supplemented with relevant information, the AI & Analytics Engine can develop and produce accurate supply and demand forecasts, taking into account a multitude of influencing variables.
The Engine can capture and assimilate information, such as:
Recurring patterns of demand for particular products
The impact of internal business decisions (e.g. headcount allocation or promotions)
The impact of external factors (e.g. seasonality)
Identification of "unknown" (i.e. unrecorded) factors by studying overall historical trends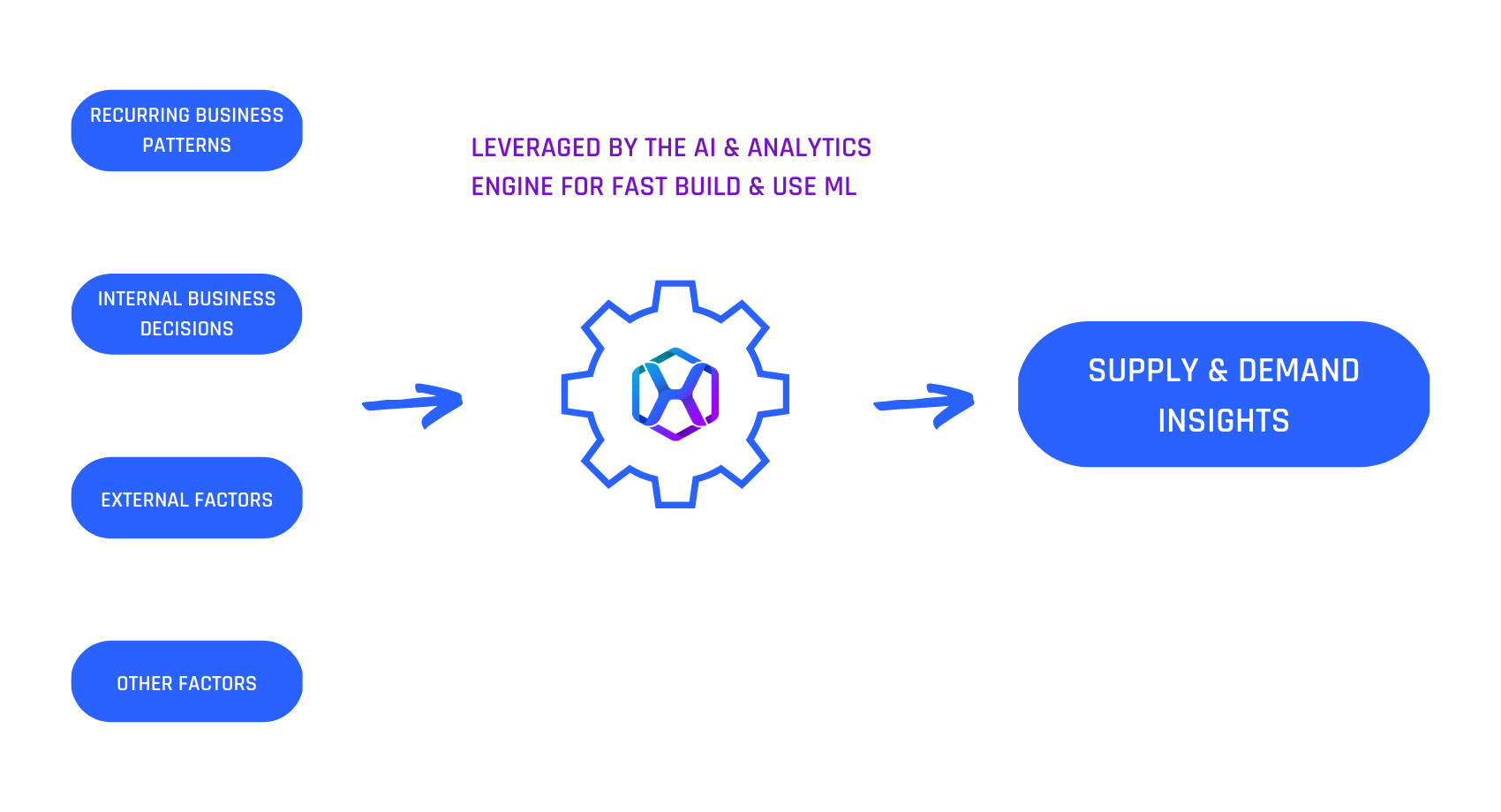 Benefits of an ML approach with the AI & Analytics Engine
Anticipate adverse or positive short-term shopping trends
Make internal business decisions based on relevant data-driven insights
Maximize sales and staffing productivity
Manage demand effectively and improve customer satisfaction.
Ready to start making data-driven ML-powered supply and demand decisions? Book a call with us and we can get you started today!