ML for Entrepreneurs
Leveraging ML to Power a Wine Pairing App and Predict the Quality of Vintage Wine
Entrepreneur, Chris Hall, successfully powered his idea with machine learning using the AI & Analytics Engine. The result? A wine pairing app that predicts the quality of vintage wines.
---
Entrepreneur, Chris Hall, saw a gap in the vintage wine market. He had an idea. With the help of the AI & Analytics Engine, he managed to successfully power his idea with machine learning. The result? A wine pairing app that predicts the quality of vintage wines for any grape, grown in any region in the world.
Wine Grounds LLC is a Boston-based, data-first tech company behind the ingenious food and wine pairing app, Grape Base. The Grape Base app uses a combination of big data, machine learning, and domain expertise to provide its users with the perfect wine pairing option with their meal.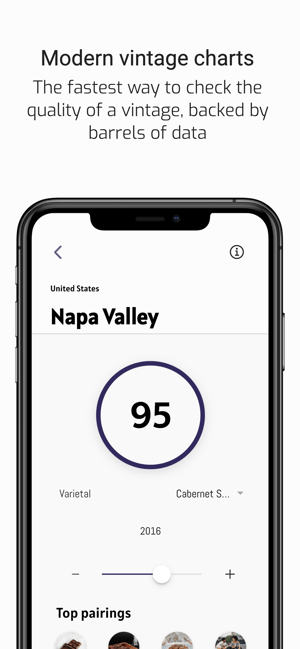 You can download their app from the Apple Store or Google Play store. Or visit their social channels here: Medium, Instagram, Twitter.
A Gap in the Market - An Entrepreneur's Opportunity
When it comes to determining if a specific bottle of wine was worth purchasing or drinking, the status quo has been, for decades, a reliance on vintage charts. Today's vintage charts are created by armies of researchers and critics – tasting wines and publishing results well after the wines have been released.
Interestingly, the ability to look up and understand the potential quality of any grape varietal in any wine region for any year had not yet existed.
Entrepreneur, Chris Hall, noticed this gap in the market and developed Grape Base to bridge it. He understood that with the help of machine learning, he would be able to create precise vintage charts in minutes, and not years.
With that in mind, Chris led Wine Grounds on the journey to power Grape Base with machine learning, using the AI & Analytics Engine.
Situation
The First Hurdle - A Lack of Machine Learning Expertise
Wine Grounds did not have in-house machine learning expertise. This is not uncommon. In fact, it's an obstacle faced by many entrepreneurs with products or ideas that need to be powered by machine learning.
Resource constraints and time constraints mean bringing in Data Scientists or ML engineers with the right expertise to develop and manage ML models is not feasible.
"We know enough to be dangerous, as they say, but working through the mathematical complexities of machine learning and building out the rest of our products wasn't something we could afford to do simultaneously."
Having access to machine learning capabilities was vital for Wine Grounds to reach its goal of building predictive models that enable users to look up any grape varietal, in any wine region in the world, for any year and understand its potential quality - a world first.
So began their hunt for a no-code/low-code machine learning platform that would enable Wine Grounds to build and manage their own models.
The Second Hurdle - Complicated Machine Learning Platforms with False Promises
Needless to say, the search for a viable solution came with its own inherent problems. Complicated machine learning platforms that required an advanced level of technical know-how.
"Every solution we looked at and tried required either an enormous amount of upfront work and expertise or a myriad of prerequisites and integrations. Only a handful of solutions were no or low code platforms and only one delivered on that promise and that was PI.EXCHANGE."
Machine Learning Made Easy with the AI & Analytics Engine
The team at Wine Grounds was looking for a machine learning solution catered to non-technical users. They needed a solution that could help them build and deploy machine learning models quickly, without the need to invest in a team of machine learning specialists.
PI.EXCHANGE's easy-to-use end-to-end ML solution, the AI & Analytics Engine, was the answer.
Trial the Engine free for 2 weeks and see for yourself just how easy it is!
Solution
In their search for a no-code machine learning solution, the AI & Analytics Engine quickly rose to the top of their list as a clear frontrunner.
"For a small, young start-up, the return on investment in the AI & Analytics Engine has been almost immeasurable. The Engine gives us the equivalent of a data science and development squad at a fraction of the cost."
Prior to using the AI & Analytics Engine, a vast majority of their efforts were manual, where they relied on Microsoft Excel and Microsoft Access to manually prepare their data. Using the Engine, they were able to quickly and easily prepare and transform their data, saving them hundreds of hours.
This is made possible with the Engine's Smart Data Preparation feature which comes with AI-recommended data preparation actions, to speed up the process.
"That [Smart Data Preparation feature], coupled with the high degree of automation is why the AI & Analytics Engine is now the foundation of our business."
The Engine is core to their product. Using the Engine, Wine Grounds built and deployed predictive models to API endpoints, for consumption by their app, Grape Base. These endpoints are used to predict the quality of vintage wine for any grape grown in any wine region in any year. They also use it extensively to predict attributes of grape varietals that their research has gaps in.
Results & Benefits
"Not only did the AI & Analytics Engine help us solve key business problems, it enabled us to build entirely new products that are now the core of what we offer to consumers. Without the engine, our business wouldn't exist."
Using the AI & Analytics Engine, Wine Grounds successfully reduced the time required for researching unknown attributes of grapes. On average, the Engine decreased research time from an hour to just 90 seconds.
Wine Grounds also built predictive models on the Engine to:
Predict the serving and aging recommendations for any grape varietal in the world.

Predict the quality (score) of vintage wine for any grape, grown in any region in the world.
In a few short months, Wine Grounds created vintage charts for close to 1600 wine regions. They now have the most comprehensive set of vintage charts that are publicly available.
"Consider the value of your or your team's time. The power of the engine isn't just in its ability to create high-quality predictive models, it's in its ability to get you up and running and evaluating results in minutes, not weeks."
Wrap-Up
PI.EXCHANGE's mission is to make AI/ML accessible to everyone. We empower entrepreneurs, like Chris Hall, to overcome the obstacles of leveraging machine learning to power their ideas, and that is at the core of our mission.
If you're an entrepreneur looking for a game-changing platform to start using machine learning, you're in the right place. The AI & Analytics Engine is the solution you need to take your idea to the next level. There's no better time than now, book a free demo with our team of specialists to find out how!