PI.EXCHANGE to establish its presence in Singapore with the assistance of Austrade
The Australian Trade and Investment Commission (Austrade) has officially welcomed PI.EXCHANGE alongside their ninth cohort at the Australian Landing Pad in Singapore. The Landing Pad seeks to cultivate opportunities for select startups to scale-up, having already facilitated over AUD$25 million in follow-on funding for it's startups, and strives to recreate their successful graduation of 38 startups to date - 92 percent of which now do business in Indonesia, Malaysia, Philippine, Singapore and Vietnam.
Alongside technology startups Coevolve and CTARS, PI.EXCHANGE was welcomed as a standout representative in the Artificial Intelligence and Machine Learning spaces, with particular note given to PI's focus on cost-effectiveness and scalability in AI/ML application development. This caps off a remarkable three months for PI.EXCHANGE having also secured two corporate clients in Singapore amidst an ongoing ramp-up to meet the rapidly rising demand for accessible AI/ML solutions.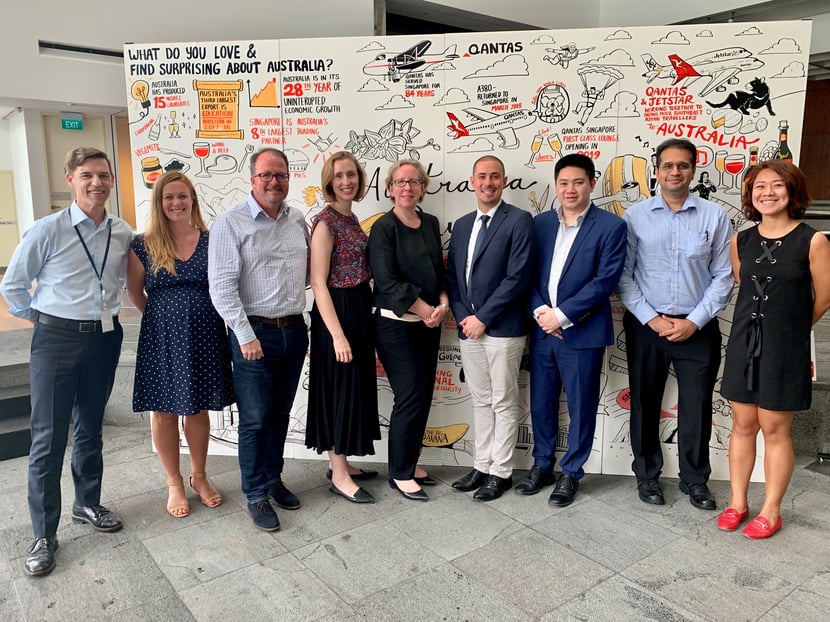 Above: Austrade's 2019 Cohort including PI.EXCHANGE Founder Quan Pham (3rd from right)
Senior Trade and Investment Commissioner, Austrade Singapore's Taliessin Reaburn remarked "Australia's entrepreneurs have so much to offer Singapore and the region, and the Landing Pad program is accelerating their entry and success here. Singapore is evolving rapidly as a global innovation hub and is a fantastic location to star their venture into Southeast Asia. The 90-day programme has a proven record in allowing startups to navigate Southeast Asia's business environment, making sense of not just its tremendous opportunities, but also its different cultural and economic nuances. I'm delighted to welcome the next cohort and help them take the next step in strengthening cross-border innovation."
Landing Pad Manager for Singapore added "We believe that our startups can not only offer technical expertise for the region's digital growth but also offer job opportunities in science, technology, engineering, and math (STEM) and upskill the local talent pool."
The Landing Pad boasts tangible outcomes for previous alumni including AUD$1.4 million Series A funding in the case of past participant Codebots who were subsequently able to secure partnerships in Indonesia, Thailand and Singapore, establishing a strong baseline of potential funding and ASEAN expansion outcomes for PI.EXCHANGE's participation in the 2019 programme.
This represents a timely opportunity for PI, with the region in 2017 seeing a total late-stage startup funding of USD$7.86 billion yet experiencing a shortfall in domestic tech sector as highlighted in a 2017 joint report from Google and Temasek.
PI.EXCHANGE looks forward to receiving continued guidance and support from Austrade's Singapore Landing Pad moving ahead, utilizing this opportunity to fine-tune offerings and market adaptation, identify new partners and opportunities as well as unearth rich audiences of customers and investors alike within the highly in-demand AI/ML Southeast Asian market.