Pricing
Introducing our new Starter plan!
Introducing our brand new starter tier! Perfect for machine learning or AutoML beginners wanting to test out their ideas.
---
Are you a machine learning beginner? Or someone who's thinking about testing out some ideas on a no-code AutoML platform? Well, listen up! We've got exciting news for you...
We're introducing a brand new subscription tier:
The starter tier
🎉
We understand that getting started with machine learning can be hard, especially if you're unfamiliar with it.
So after much planning and research, we've curated the perfect affordable plan catered specifically for users like yourself who are new to machine learning and want to test out their ideas.
Our new starter plan is just $39/month!! You won't find a better price point elsewhere.
At just $39/month, this is a cost-friendly option for you to get machine learning at your fingertips and start building predictive machine learning models.
Note: This, and all our other plans come with a 2-week free trial where our team onboards you to the Engine, helping you get the most out of it.
At this tier, you can make up to 250 thousand predictions a month! That's more than enough to get your idea up and started if that's what you're using AutoML for. We're confident that this starter plan is the right move for you.
In fact, let's compare the Engine's pricing with 2 of the more affordable AutoML platforms out there.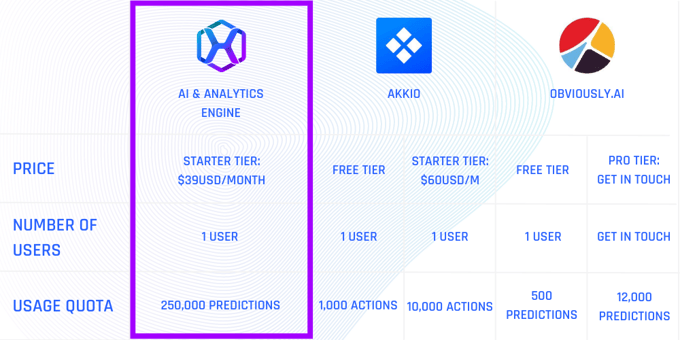 Both Akkio and Obviously AI offer a free subscription tier. However, users are heavily limited in terms of usage.
With 500 predictions as the limit for Obviously AI, users may find the need to upgrade to the next subscription tier quite quickly. The next tier is the Pro, where users need to be in touch with the team to get the pricing. Akkio's free tier allows you 1000 actions in total (predictions, data merge, etc.). Their next tier at $60/month gives you a slightly more substantial 10,000 actions.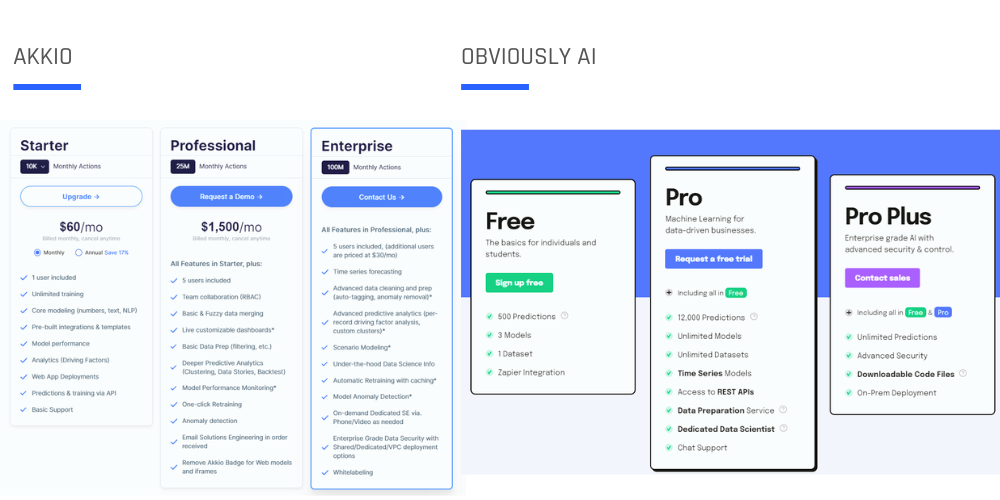 Both Akkio and Obviously.AI's free tiers are indeed useful for a beginner. However, with the AI & Analytics Engine's Starter plan, you face fewer usage limitations - enabling you to explore and experiment more extensively.
What are you waiting for? Ready to start exploring no code machine learning with our AutoML tool? Register for your free trial!