New Feature
Release 1.4.0: GPU Acceleration, New Business Plan & Improved Data-Wrangling
The latest release of the Engine version 1.4.0 bring with it GPU-supported model training, added actions to improve data-wrangling, the new business tier plan and so much more!
---
As we reach the halfway mark for 2021, we are excited to announce our 2nd major release of the AI & Analytics Engine - version 1.4.0!
Together with the previous release at the end of Q1 2021, version 1.3.0, we have made several powerful improvements to our Data-Wrangling capabilities, added GPU support for model training, added the new tier of "Business" to our plan offer as well as made changes to simplify the registration process and update our quota-system (plus so much more!), for the detailed release notes visit our Knowledge Hub.
Data Wrangling Improvements
The team has worked to deliver an even better data wrangling experience to our users. Keep an eye on our blog articles, or better yet subscribe so you get detailed information on new actions and how to use them as they are added!
Formula editor
Evolving from our previous approach of using lexically-ordered symbols to reference columns, users can now select columns and formulas directly in the input (with auto-complete available!) when creating their own formulas in the action editor.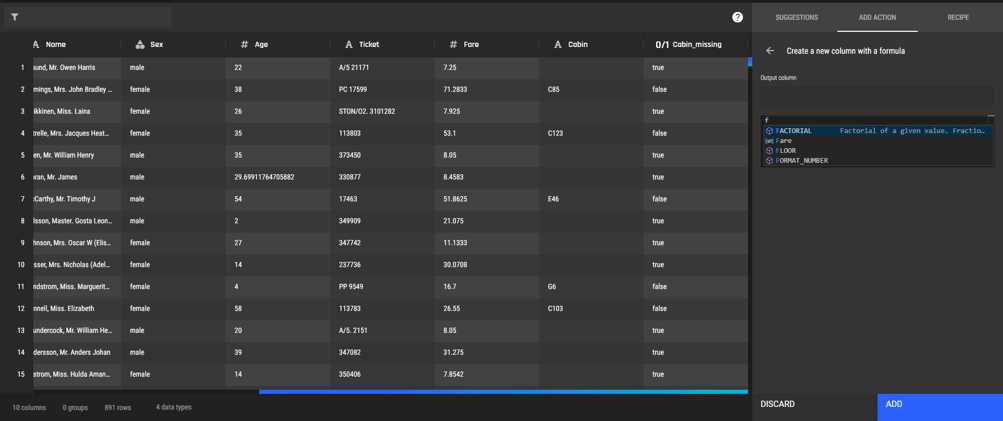 New Semantic Types Added
We added new semantic types Json Array and Json Object, these new types make working with complex, nested, and semi-structured data easy!
Even More, Actions Added to our Action Catalogue
More actions across Data Cleaning, Basic & Advanced Feature Engineering, Combining Multiple Datasets and Aggregation, Window Functions, and Pivoting!
For more information, please refer to our Knowledge Hub (actions documentation).
GPU-Support for Model Training
In collaboration with the NVIDIA team, our team of Data Scientists and Software Engineers have worked around the clock to build GPU support for model training. This means that for large datasets (think multiple GBs!) users can now train on GPU-based algorithms, which can greatly improve training speed as it is able to take advantage of the GPU hardware.
New Business Plan Added
For teams hungry for a plan with higher usage quotas, fret no more. We have recently introduced a new Business Plan with a much higher quota cap to meet your growing AI needs. For more information on our new pricing plan, please refer to our pricing page.
An updated usage quota system
We have significantly streamlined and updated our usage quotas to make it simpler for users to understand and track their usage, as well as right-size the quota amount for each plan. For more information on the updated quota, please refer to our pricing page.
Improved Trial experience
Simplified Registration for Trial
Based on user feedback, we streamlined our trial registration flow from 3 steps to just 1. Experience it for yourself today!
Trial Available as a 2-week Free Trial at the Business Plan Tier
Instead of a long-drawn-out trial experience, we decided to have a shorter but more powerful experience for trial users, giving them more access to features and a higher quota by trialing the Business plan.
Are you interested in getting in touch with the team to find out more about the Engine and what the new features can do for you?